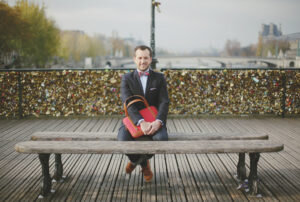 Between the photo above and the one below, a new mannequin has come to crash the party.
But greg doesn't let that happen!!!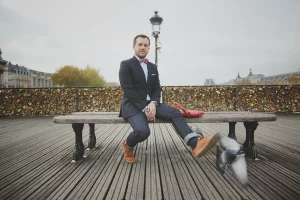 WHY THIS LOOK?
Firstly, because the preppy look has been a fashion timeless since its inception in the 50s in the USA. Secondly, because it's making a comeback among young people (who are at the origin of its creation).
But above all, being preppy means being elegant in all circumstances. You never know who you're going to bump into at the local café or at a party with friends. Maybe it's your future employer with whom you're having a drink and talking about your next weekend in Juan… And even if you don't necessarily find the job of a lifetime at this party, women love elegance in a man…
Finally, we've chosen this look so you can wear your jacket outside the office! At the price you paid for it, it would be a shame not to share it with your friends…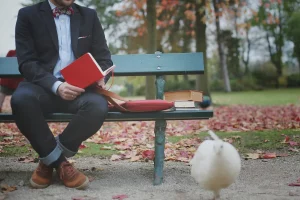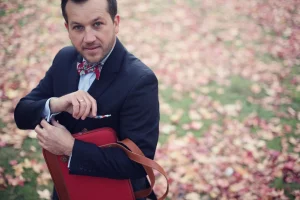 PRODUCT FOCUS
For this look, we chose to emphasize the dressy side with a blazer-like jacket over a fine-striped shirt (tennis pattern). The sleek computer clutch also accentuates the seriousness of this outfit (it's an inseparable trio for going to university…).the bottom of the outfit emphasizes the casual side with matte jeans with a turned-up hem and sneakers on Gregory's feet. The finishing touch was a bow tie and clutch. And since it's autumn, we chose red/orange as a color accent (yes, we think of everything).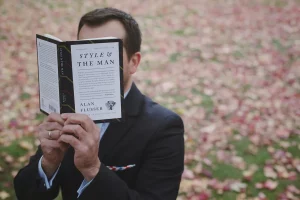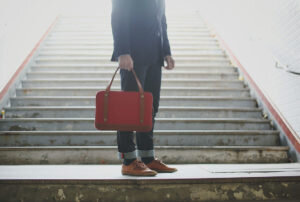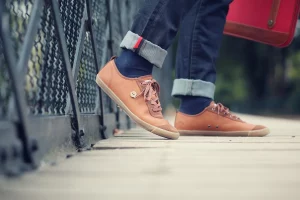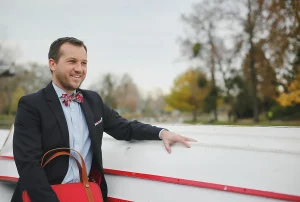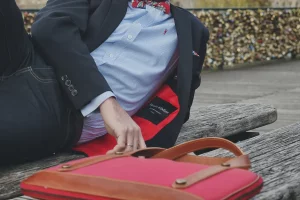 Jacket: Blandin & Delloye
This is a tailored navy-blue jacket in Vitale Barberis Canonico blazer fabric. The collar is thin (7cm) and the jacket short (it stops between the buttock break and mid-buttock). The inner AMF stitch is red.
Bow tie: Le Petit Noeud
Bordeaux fabric – hand-stitched
Shirt: Striiipes
Men's shirt, 100% cotton fabric, light blue and white stripes, 1 red lobster embroidered on left breast, limited series, 100% natural mother-of-pearl buttons, simple musketeer cuffs.
Clutch bag: Striiipes
Limited-edition clutch bag, silk print, small silk square to slip into breast pocket.100% silk twill, size: 32cm/32cm
Jeans: Denim color code
The jeans have a "mid-rise" waistband and are slightly tapered at the hem for a slim, straight-leg look. Engraved button fly, 5 pockets, stitching on the right loop and fabric lining on the cuff in red.
Belt: Denim color code
Brown reversed leather belt, contrasted and embossed inside. Red suede loop and dark metal buckle.
Shoes: Faguo
Leather sneaker with suede reinforcement, striped fabric interior and, not forgetting, Faguo's coconut button. The brand plants a tree in France for every pair of shoes and accessories sold.
Computer case: Apto
Thin and light, with clean, geometric lines, it's the basis of Apto's modular bag concept. Made in France.
Come on, let's do some reading!
THE PREPPY STYLE
Preppy style is originally very classic. It comes to us from the cream of Anglo-Saxon universities and dates back to the 50s. The word Preppy comes from Prepparatoy (prep school students). According to Erich Segal – illustrious inventor of the term preppy – a preppy "dresses perfectly naturally". His outfit is made up of simple, elegant elements (polo shirt, suit jacket, loafers, canvas shoes, etc.). For purists, the famous school crest sewn onto the polo/jacket and a pair of penny loafers on the feet are must-haves.
For the realization of this article, we warmly thank :
Sandrine de Moura : Make-up artist
Grégory Bajoux: Model
Karim Benhaddouche: Photographer – Karimage